AMD 7000 Series Video Card vs NVIDIA 4000 Series
Don't know which graphics card to use for your PC? AMD or Nvidia? Here we give you the recommendations, so that you acquire the right card for your graphic activities, games, design or architecture.
Generally speaking, AMD 7000 series and Nvidia 4000 series cards were released to the market at different times and therefore have distinct features.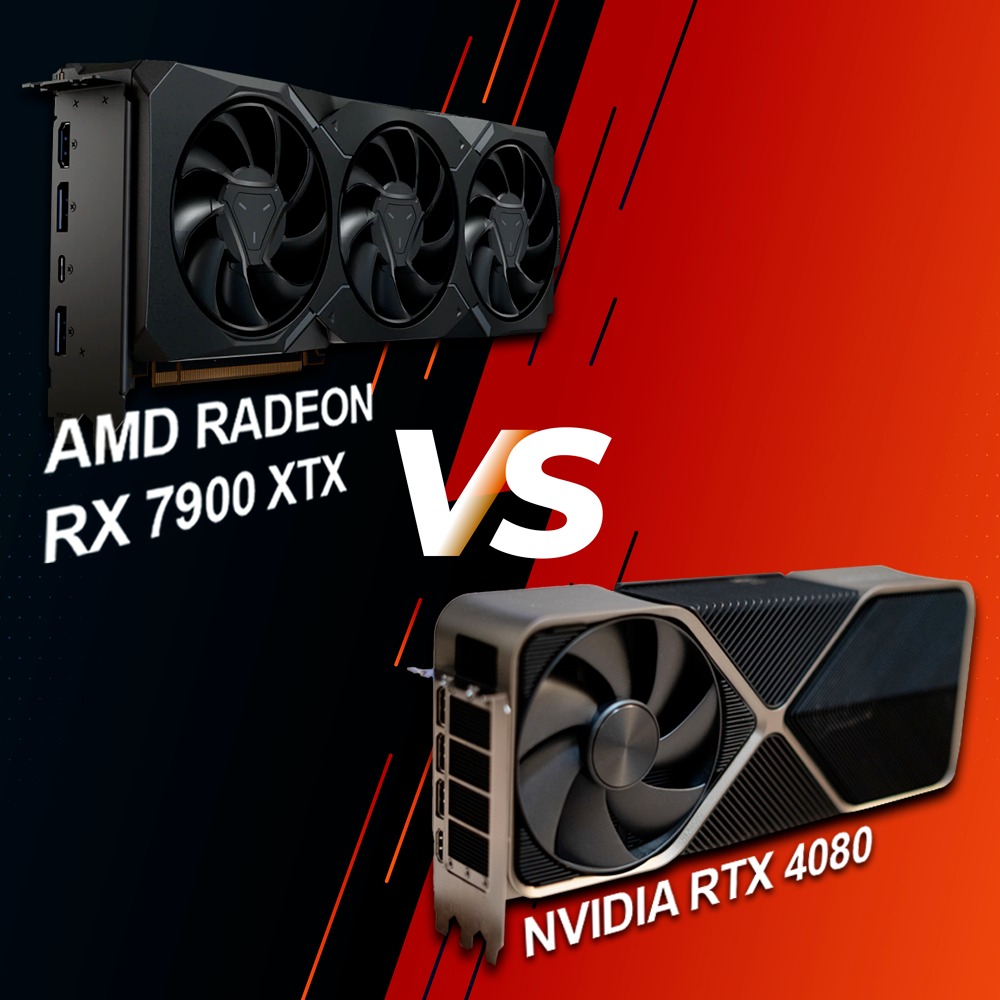 AMD's 7000 series was released in 2012 and features "Graphics Core Next" (GCN) technology, which means it is capable of processing tasks more efficiently and with less power compared to previous graphics cards. Additionally, these cards have a higher number of processing cores and a higher clock speed compared to previous AMD cards.
         On the other hand, the Nvidia 4000 series was released in the year 2008 and features "Tesla" architecture. Although this series is not as new as AMD's, these cards are still capable of providing solid performance for gaming and graphics work. Such as: (design, video editing, architecture, 3d design, programming and many more tasks) At the time, these cards were known for their ability to process large amounts of scientific and mathematical data.
Regarding the direct comparison between both series, it is difficult to make a complete evaluation since it depends a lot on the specific model within each of them. However, in general it could be said that AMD 7000 series cards offer better performance in games and multimedia applications, while Nvidia 4000 series GPUs are better suited for scientific and mathematical tasks.
Gaming performance of graphics cards, in addition to specs like clock speed and video RAM (VRAM), you have to think about how individual GPU models balance texture quality and FPUs for each game.
CLICK HERE TO SEE THE GAMING COMPUTERS THAT WE HAVE PREPARED FOR YOU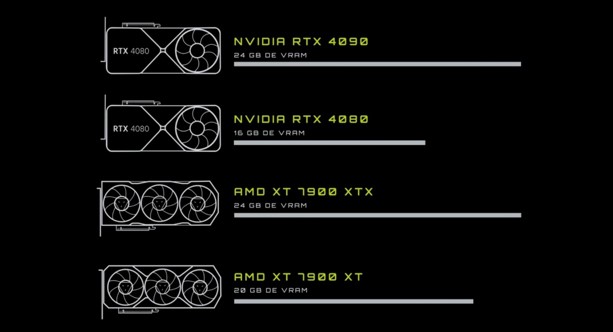 But choosing between AMD or NVIDIA for your gaming rig can get tricky when considering more advanced features.
The NVIDIA card that optimizes ray tracing, an AI-enabled rendering technique that can model light effects with stunning realism. AMD uses a similar technique called FSR, but it still isn't able to deliver the realism of sunlight through fog and other atmospheric experiences as convincingly.
For those of you who don't know the meaning of (FSR) FidelityFX Super Resolution, it's basically designed to upscale the graphics while gaming. It allows you to output graphics at a higher frame rate, but also at 4K. So while the game engine renders at 1080p, for example, the end result is 1440p or 4K.
Nvidia graphics cards use a technique known as DLSS to model ultra-realistic ambient light effects. Where Deep Learning Super Sampling (also known as DLSS) is an artificial intelligence technology that Nvidia has developed to help improve gaming machine performance even at higher settings.
Are you okay with sacrificing ray tracing to increase frame rate? You are probably an online multiplayer gamer who wants to minimize lag at all costs. If so, you'll want an MD card that costs significantly less than an Nvidia GPU with equivalent native performance.
Many gamers also prefer AMD Dashboard for its easy-to-use interface and ability to overclock their GPU. You just need to make sure to check that you are not overheating your GPU and other critical components when overclocking. Since AMD does not update its graphics drivers as often as Nvidia does, it can lead to performance issues.
DO YOU WANT TO SEE MANY MODELS OF GRAPHICS AND PRICES? CLICK HERE
NVIDIA RTX 4000 vs AMD RX 7000, the definitive comparison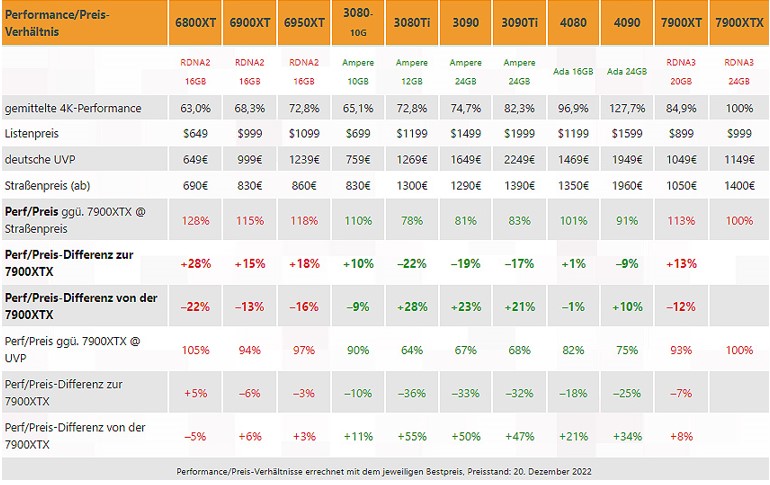 Assuming that 100% is the RX 7900 XTX, what we see is that its smaller brother is 15.1% slower, while the RTX 4090 is 27.7% faster than the first. Interestingly, the RTX 4080 lags behind AMD's best, albeit by just 3.1%, albeit 18% worse in performance for price.
There is a curious fact in this section, and it is that of the 11 cards compared here, only one is above this ratio: the RX 6800 XT with +5%, while the remaining 10 bite the dust against the RX 7900 XTX, No discussion leader here when comparing MSRPs. Logically, when making the same comparison with the real prices in stores, everything changes, since it is surpassed by all the cards except for the high-end NVIDIA ones: 3080 Ti, 3090, 3090 Ti and 4090.
Performance per watt put to the test
As for NVIDIA, the RTX 4090 with 450W in TGP and 418W real offers 7% more than its rival, but the big winner of the night is the RTX 4080, since with 320W and 297W real measured it achieves 15% performance per watt better than the RX 7900 XTX. In fact, only these two RTX 40 GPUs manage to outperform the best of AMD here, the rest of the competitors from both series and predecessors are clearly behind, which shows that the leap in nodes and architectures has been key.
AMD graphics cards have decided to create multi-chip graphics, which, like Ryzen processors, are modular, while in Nvidia graphics it is a single chip with a lot of cores and speed.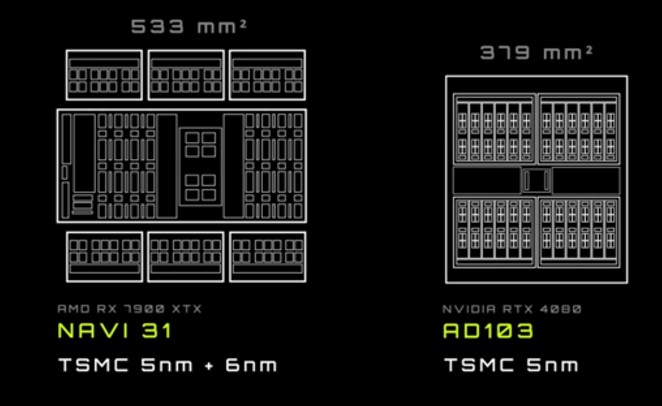 AMD decides to create mini graphics that connect to each other, with technology called infinite cache, which allows it to transmit information between these chips at 5.3 tb per second.
         The most basic difference between AMD and Nvidia GPUs is that Nvidia's chips tend to be more powerful, especially at the higher end, while AMD's cards offer better value for money at lower prices and a better interface. more user friendly.
          At an electronic level between AMD and Nvidia in general they are not different, since both are designed by the same factory, with the same technology of 5 nanometer and 6 nanometer for the cache circuits.
         AMD video cards introduce us to the future-thinking DisplayPort 2.1 and Nvidia GPUs will have problems later if a DisplayPort 2.1 monitor comes out.

AMD is also announcing that it is going to place artificial intelligence that is compatible with those same GPUs. And where they have also advanced a lot is in the video codec, where it has improved, ideal for STREAMING, it taxes the screen with support for UV1, which is a superficial compression format that sends very high quality images with very little data.
Following the release of AMD's new 7000 series GPUs, AMD has confirmed that its flagship Radeon RX 7900 XXTX graphics card is designed to compete with the NVIDIA Geforce RTX 4080 and not the more powerful RTX 4090.
Speaking to PCWorld, AMD's Chief Gaming Solutions Architect Frank Azor cleared up the situation before it got out of hand. When the issue of pricing for the RX 7900 XTX and RX 7900 XT was brought up, Azor immediately responded by saying, "Let's face it, it's a $999 card. Not a competitor 4090, which costs 60% more. This is a competitor 4080.
What Azor wants to get across is that those who buy the AMD Radeon RX 9700 XTX won't get the performance of the NVIDIA Geforce RTX 4090. The RX 9700 XTX is a powerful card and AMD thinks it's well priced, but it's priced to compete with the RTX 4080. NVIIA's RTX 4080 is priced at $1,299, making AMD's card considerably cheaper. PC gaming enthusiasts will remember that NVIDIA planned to release a more affordable $899 version of the RTX 4080, but later decided against it.
Azor insists the RX 9700 XTX is a "winning value proposition," so there's confidence that, even at $1,000, PC gamers will be happy with the card. Even if the RX 9700 XTX underperforms the RTX 4080, it's still $200 cheaper.
If you liked the content of this blog, leave us an opinion in the comments and share it.
You can leave us a gratuity contribution by PayPal in case it has served you by clicking here.
Consultant and hardware specialist
Danianllely Gonzalez
Team: RJD SYSTEMS